The Great Service of Sense Hotel Seminyak Gets 5 Stars from iGuides
Seminyak in Kuta, Bali Island, always becomes an interesting tourism destination that is worth visiting. It has many amenities, such as hotels, spas, restaurants, cafes, shops, and beaches. Located in the heart of Seminyak, Sense Hotel Seminyak succeeded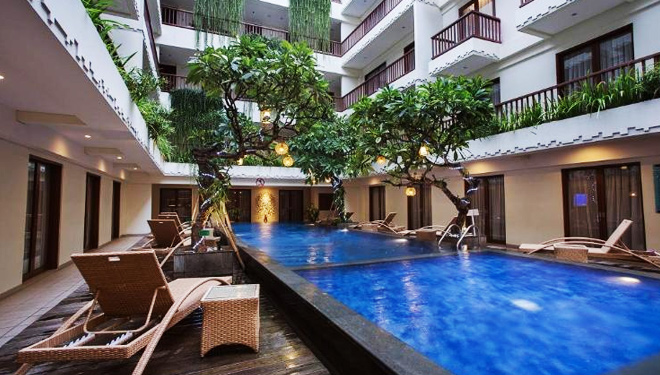 Sense Hotel Seminyak. (FOTO: TripAdvisor)
Seminyak in Kuta, Bali Island, always becomes an interesting tourism destination that is worth visiting. It has many amenities, such as hotels, spas, restaurants, cafes, shops, and beaches. Located in the heart of Seminyak, Sense Hotel Seminyak succeeded to be listed in Indonesia's Recommendation Index from iGuides TIMES Indonesia with five stars.
Sense Hotel Seminyak is located in Kayu Jati Rd 5, Seminyak, Kuta. This hotel has four-star accommodation. With its modern Balinese design, this hotel is equipped with various amenities, such as outdoor swimming pool, spa, and free Wi-Fi in all areas.
Each room has a natural-colored interior, completed with AC, flat-screen TV, and minibar. There are various Indonesian and Western foods served in the restaurant. By walking on foot for around five minutes, we could enjoy the beauty of Seminyak Beach.
"Sense Hotel Seminyak is really suitable for those who want to feel the sensation of beach hotel. The place is clean, friendly service, and the location is very near to Seminyak Beach. The rooms have a competitive price with complete and satisfying facilities," said Ye Rachma, the secretary of iGuides reviewer TIMES Indonesia.
iGuides reviewer is affiliated with other five platforms that provide real reviews, such as TripAdvisor, Agoda, Traveloka, Booking.com, and Google Local Guide. The reviews could be a guide for iGuides in listing this hotel in Indonesia's Recommendation Index in iGuides.
Let's see the review from Hansen F, who gave five stars to this hotel, along with other 274 reviewers from Traveloka.
"The hotel was great. The location was perfect, and staff's hospitality was above average. Really recommended for a stay around Seminyak area," he wrote briefly.
The friendly staff and the great service were praised by Maria from United Kingdom through her review in Booking.com.
"I stayed here for 3 nights on my recent visit to Seminyak. The staff were lovely and upgraded me to a pool access room, it was pretty simple inside and gets rather noisy in the mornings when staff are outside doing things. The hotel is in a fabulous location close to the beach, restaurants and all the cafes that I wanted to check out. It is great value for money hotel, a boutique luxury for less! Fantastic pool picture-worthy pool too! Pandu was brilliant - he is always so smiley, goes above and beyond and even borrowed me his personal charger as I lost mine!" she wrote.
This hotel has got 835 reviews from TripAdvisor. CallmeLynn, one of the reviewers who really enjoyed her vacation at Sense Hotel, gave five stars to this hotel.
"Home a week following a wonderful holiday in Bali staying at the Sense Hotel. This was not my first stay here and this visit was every bit as good as the first! The staff at the sense could not be more welcoming. The hotel is very clean and comfortable. The air conditioning made nighttime a pleasure. Breakfast was limited in choice but adequate for our needs. The bar was well stocked and very pleasant to sit outside at night. The pool looked lovely although we didn't use it. It's small with limited sun loungers. I would recommend the Sense to anyone visiting Bali." She wrote.
Millica M was impressed by the cappuccino that she enjoyed at Sense Hotel Seminyak. Let's see her review from Agoda, along with the other 929 reviewers.
"Great hotel, great service, we really enjoying our stay here! Everything is clean and we dont have problem with noise! They have THE BEST CAPPUCCINO we ever tried, even better then in Italy! Thank you so much for your kindness and our plesent stay!" she wrote.
Pedro Parreira, a reviewer from Local Guide Google, also gave five stars in his review as he was impressed by the great service from the staff during his stay at Sense Hotel Seminyak.
"I am giving 5 start to this Hotel, because I had a fantastic experience there. I stayed for 6 days, and on my first day as I was about to do my payment I realized that 10 minutes before I had been stolen 150 pounds in my money exchange in town center, but the young guy at the front desk arrange with the security guy a visit to the same money exchanger and I had my money back ( thanks a million to them ). So after this everything in the hotel was very good , breakfast was good , they provide a scooter rent very good and cheap as well .The room is nice, they have a nice pool area ( not a lot of sun ) and the restaurant is alright," he wrote.
Impressive! No wonders why iGuides gave five stars to Sense Hotel Seminyak. Of course, Sense Hotel Seminyak deserves to be listed in Indonesia's Recommendation Index. Congratulations! (*)

Artikel ini telah tayang di TIMES Indonesia dengan judul The Great Service of Sense Hotel Seminyak Gets 5 Stars from iGuides
What's Your Reaction?